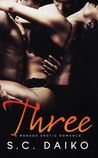 Three: A Menage Erotic Romance by S.C. Daiko
My rating: 5 of 5 stars
Omg I wanted to give this more than 5*
It took me a little while to get into it but once I did wow!
The love, trust and bond between these three is lovely and I believe they would do anything for one another.
Lauren although a submissive was a very strong character who I believe pushed just a bit to get what she wanted, the sex scenes were serious hot. Max was a hot alpha male who was holding a secret but would do anything for Lauren.
This is a must read!