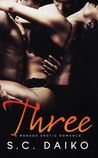 Three: A Menage Erotic Romance by S.C. Daiko
My rating: 5 of 5 stars
Three by S.C. Daiko was the first novel I have had the honour of reading and I have to admit I loved it. It's not your usual BSDM romance novel, but it has a uniqueness that makes it a fantastic read. There is a bond between the three lead characters that may not be understood by everyone, but they are also part of a world that is somewhat frowned upon by many. I loved their connection, and how they interact with each other in a way that makes them feel whole and completely at ease.
The story itself is very steamy and can leave you a little hot under the collar. It's a beautiful love story about a man losing the love of his in a freak accident and the events that follow, which make him question his sexuality and position on love in general.
When Max brings Lauren and Steve across to Italy to work within his company, he doesn't expect the rollercoaster of emotions, or love he would feel, for not just one of them, but both. But an unconventional relationship like theirs is not going to be without it's problems and this is definitely the case in this novel.
I am not one who likes to give away spoilers, so I would highly recommend you grabbing this book as you will not regret it xx